Programs at a Glance
A point-based program that allows merchants to reward loyal customers. Customers accumulate points based on rules set by the merchant. These points are redeemed by the customer for tangible rewards, per the program the merchant has established. For example, a point earned for every cup of coffee purchased with a free cup after ten earned points. This program provides merchants with the flexibility to tailor a customer rewards program limited only by their creativity!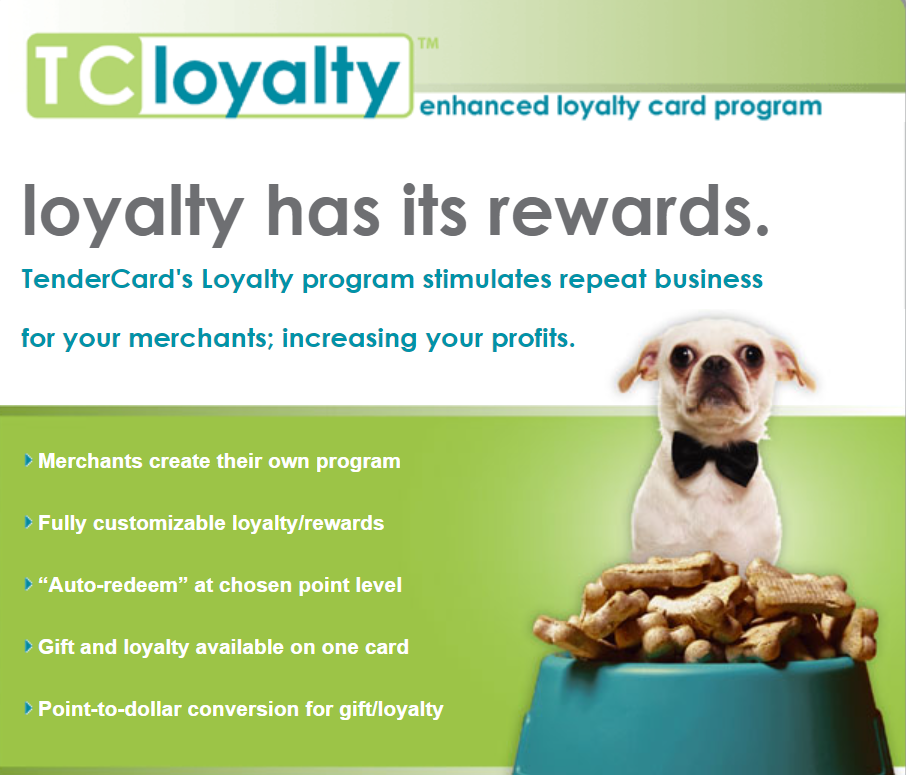 How does the program work at the merchant level?
By tracking points (as opposed to dollars with a standard gift card program). To setup their program, merchants must consider the following:
When will points be issued?
Upon number of visits, at dollar intervals or with certain purchases.
What point threshold must a consumer reach to earn a reward?
One that is cost effective for the merchant, but attainable for consumers.
What will the reward be?
Consider how much a customer has spent to earn it…a free cup of coffee after purchasing 10 makes sense, but one free car wash after paying for 50 is not enticing enough to encourage customer loyalty.
After making these decisions, a merchant must train their staff and market the program. After that, special promotions like "double-point Tuesdays" are great for drawing attention to the loyalty program.
Here are some other features of TCloyalty
Point-to-dollar conversion - Merchants set up their program so that points are converted to a dollar value at pre-determined thresholds (e.g. once a customer earns 100 points, the program will auto-redeem those points and add $10 worth of value to the gift card).
Auto-redemption - This feature enables point-to-dollar conversion. A threshold is set at which a card's point balance automatically zeroes out.
All features must be set with TenderCard via phone at 800-383-8280 or by email to tech@tendercard.net.