Programs at a Glance
A stored value program, these cards replace paper gift certificates. First, the customer pays the merchant, who loads the collected value onto a gift card through a programmed terminal. The funds represented on the card stay in the merchant's account. The cardholder can redeem the value on the card for goods and services at participating merchant locations. The amount of the sale is deducted from the card and the balance remaining prints on the receipt. Cards can be reloaded at any time.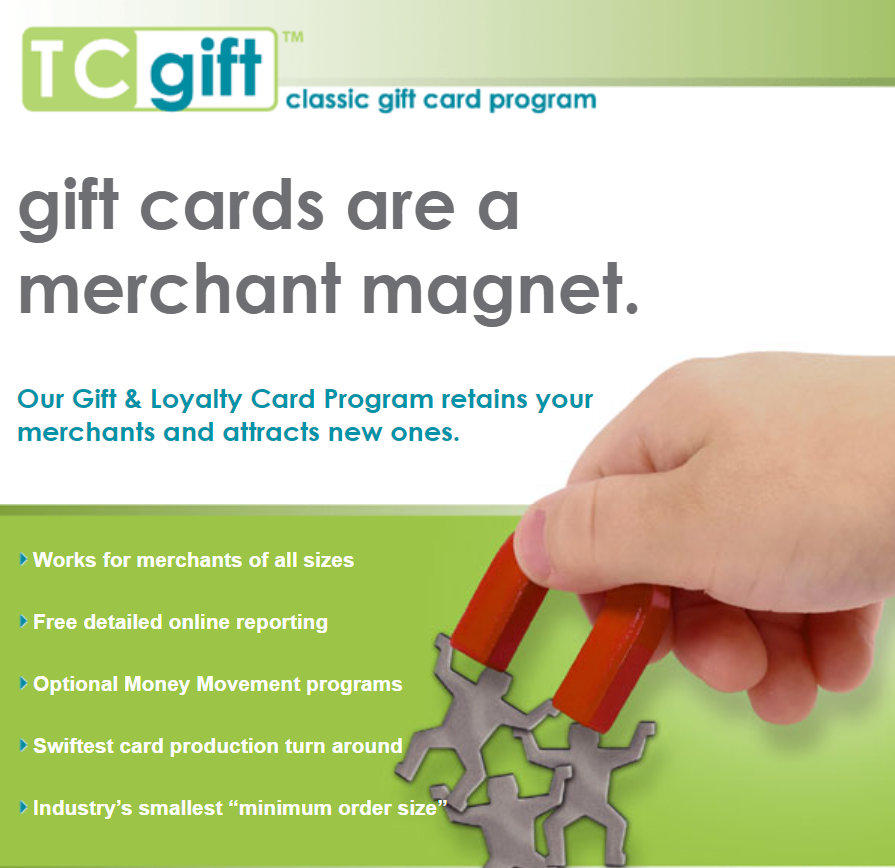 How do I set up a merchant?
Fill out the application and Product Order Form with the merchant. Then submit both to TenderCard for immediate processing. Please contact applications@tendercard.net to request the latest TenderCard application.
How does a merchant pay for the program?
You collect the funds from the merchant for the entire amount specified in the application OR we ACH the merchant once the application is approved. Monthly and annual fees are ACH'd from the merchant.
What's in a Starter Kit?
A Starter Kit includes gift cards, gift card envelopes, a point of purchase display stand, window decals, a terminal quick reference guide and a welcome letter.
Are custom cards available?
We offer four styles of gift cards designed to meet any merchant's aesthetics and price point: One-color Pre Designed, Four-color Pre Designed, One-color Custom and Four-color Custom. A full description of each is available in our Product Catalog.
How does the online reporting work?
Merchants view comprehensive, real-time reports by logging onto www.tendercard.net under the "Merchant Login" section. A user name and password go to the email address listed on the application once the approval process is complete.
How does the reorder process work?
Merchants can reorder directly from us or go through you; it's your choice.
Are the cards reloadable?
Yes, and they last for years.